Josh Byers, USMA '96, was like many of his fellow graduates with dreams of achievement, selfless service, and family still ahead of him. Commissioned armor, this son of Baptist missionaries went on to become airborne and Ranger qualified, a general's aide and even earned a Master's degree in engineering by the time he'd completed the officer advanced course.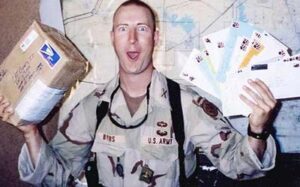 In April 2003, Josh deployed in support of Operation Iraqi Freedom where, shortly after his arrival in country, he took command of a troop in the 3rd Armored Cavalry Regiment.
As was his custom, Josh was in the lead vehicle, a Humvee, of a 50-vehicle convoy near the town of Ramadi,
about 60 miles west of Baghdad. It was a Wednesday, the 23rd of July. Josh's wife, Kim, was back home at Fort Carson, Colorado. Josh's folks were serving as missionaries in the Pacific. It was his mother's birthday.
The IED, composed of daisy-chained artillery rounds, was command detonated by two insurgents hiding in roadside bushes. Captain Joshua Todd Byers, age 29, who'd been in command for only 40 days, was killed in action.
"As an assistant professor, I not only had the privilege of teaching Josh as one of my students, I also had the great pleasure of serving as one of his mentors. I can unequivocally say that I'd never met a finer cadet or young man and the world is a lesser place with his loss. " – JD Lock
One can easily honor Josh and all others who have likewise died on the field of battle with testimonials and websites. However, there is a better way to honor Josh's sacrifice and memory and that is to invest in the development of a revolutionary technology that can mitigate, if not outright defeat, the terrorist and insurgent scourges of IEDs and suicide bombers.
More about Josh here… from Military Times